Jobs for Stay-at-home Parents
The rising costs of childcare have compelled some parents to stay home to take care of the children. But it doesn't mean they are sacrificing the chance of earning income when they are at home. The ability to work from home was highlighted by the pandemic as companies told their employees to work from home.
While people who are new to remote work struggle, it's a walk in the park for stay-at-home parents who have already been doing this for years. But if you're new to the idea of remote work and are interested in knowing the jobs available for you, continue reading until you find one that best fits your skills.
Online Teacher
Educators who are now stay-at-home parents can continue their vocation and get paid for it. With the increasing number of non-native English speakers wanting to learn the language, they can continue teaching in the comfort of their own homes. They can find these eager students through online English teaching schools.
Many of these online schools are based in China, but some are also based in other countries, such as Japan and South Korea. Aside from a computer and stable internet connection, you should also have a headset with a microphone, a webcam, and a well-lighted area where you can hold classes as an online teacher.
Virtual Assistant
Another popular online job stay-at-home parents can do is being a virtual assistant. A virtual assistant provides administrative work for businessmen without being physically present in the office. They schedule appointments, make travel arrangements, and sort emails.
A virtual assistant is typically an independent contractor who has years of experience in administrative work. If you have this skill set, you can try looking for virtual assistant positions on different online job platforms. Some of these positions might also require specialized skills, such as graphic design and content writing.
Transcriptionist
If you have a good ear and are good at typing, you can look for a transcriptionist job. A transcriptionist is a typist who listens to recorded or live audio and converts it into text. People with a high level of typing skill, including accuracy and efficiency, are ideal for this job. The grammar and spelling skills should also be top-notch to perform well in this industry.
For parents who are medically-inclined, they can also opt to look for healthcare-related encoding jobs. While many of these jobs only required basic software, others need specialized coding software designed for medical purposes.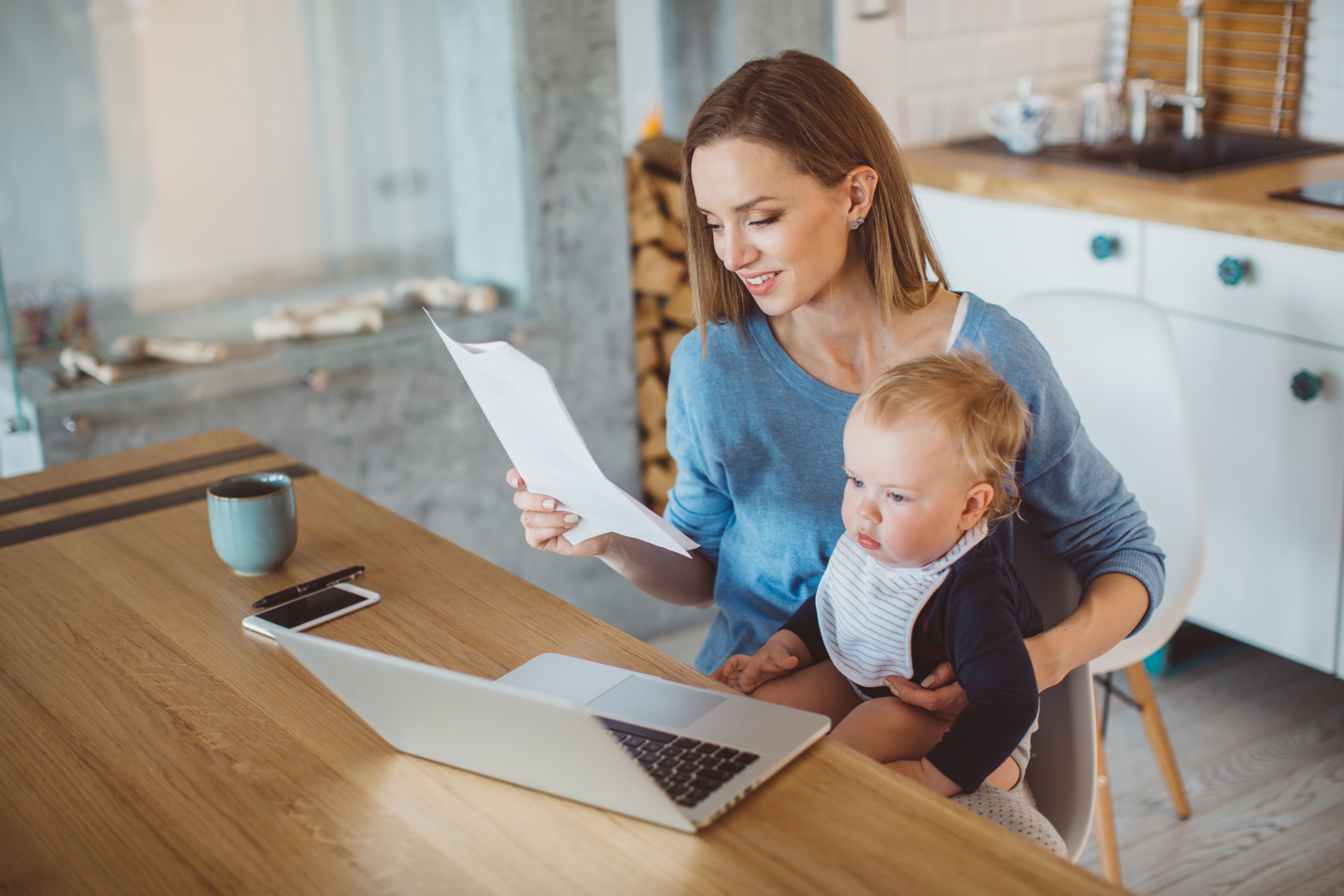 Blogger
If you're a prolific writer who used to submit stories for the school paper, you can use this skill to your advantage by starting a blog. While the financial remuneration for a blog isn't as huge as the other online jobs, you can use it as a passive income source when you monetize it.
Monetizing a blog can be as simple as signing up for an online advertising account up to selling courses through the blog. But you should keep in mind that it can take some time for your blog to attract enough attention to make it feasible as your primary income source. You can also use it as part of your portfolio if you're looking for a job as an online content writer.
Content Writer
This job is connected to the previous career as a blogger. To convince potential clients to hire you, you should set up a blog to show them your writing skills and style. Working as a content writer requires impeccable grammar and spelling. You should also have the gift of writing convincing articles, especially if you're working as a copywriter.
But there are several online tools that you can use to help you check or proofread your work. Some devices also check if your article has a duplicate online. You can apply for a job as a content writer through different online job platforms.
Proofreader
If you're a grammar guru, you can put this skill to good use by working as a proofreader. Authors, publishers, and businesses usually look for freelance proofreaders to check and enhance their copy. Working as a proofreader means you should ensure the copy has no grammatical, typographical, or spelling errors. You should also check for punctuation, syntax, and formatting mistakes.
Aside from having a faultless mastery of the English language, you should also have the eyes of a hawk so you can easily see mistakes at first glance. Additionally, you should have a lot of patience since the job can be quite tedious, especially if you're proofreading many pages of content. Precision is also important to allow you to make the necessary revisions to enhance the copy's overall quality.
Being a stay-at-home parent doesn't mean you cannot earn income while taking care of the household. With the huge number of jobs available online, you'll likely find one that fits your skills to a tee.